Iceland is full of natural hot springs and geothermal pools.  Some are easily accessible and some you might need to make a bit effort. Some has entrance fees. Some are absolutely free.  Nonetheless you should definitely visit at least once when you go to Iceland. Little warning that it's very addictive.
One of the best hot springs in Iceland is Reykjadalur. Reykjadalur ( Steam Valley ) is a geothermal area in the town of Hveragerdi in South Iceland, 40 minutes drive from Reykavik and 20 minutes drive from Selfoss. Not only that it's free but also it situates in the valley, surrounded by the mountains.  To get to Reykjadalur Hot Springs River, you need to make 3.2 km hike up the mountain.
If you need a true experience of fire and ice of Iceland, you must try Reykjadalur in winter. I visited Iceland in late November because of my quest for the Northern Light and also to make this hike. A week before I arrived in Iceland there had been a heavy snow storm. So I wasn't sure I would be able to make this hike.
My plan is to visit Reykjadalur at the end of the day after all the must-see spots around Golden Circle. In November, The daylight is from 10 am to 4 pm.  I plan to begin the hike at 2 pm. This way I should be able to make my way down before dark.
The beginning of the hike
Fortunately, the day was nice as it can be. No snow, no wind, very sunny and not terribly cold. So I know for sure that the trail should be opened. However ,by my own fault, I had enjoyed the breathtaking sight of Þingvellir and the Geysir way too much than I should.  I didn't arrive at the parking lot at the foothill where you start the hike until 3 pm. There were a lot of cars still in the lot , a few cars started to leave. I saw one group of people just getting ready for a hike. I felt a bit relief because at least I am not alone going up.
From the parking lot, walk across this small river and to the left to see the beginning of the trail. It clearly says 3.2 km to Reykjadalur but what it doesn't tell you is it's going be uphill.
3.2 km PATH TO A WARM NATURAL BATH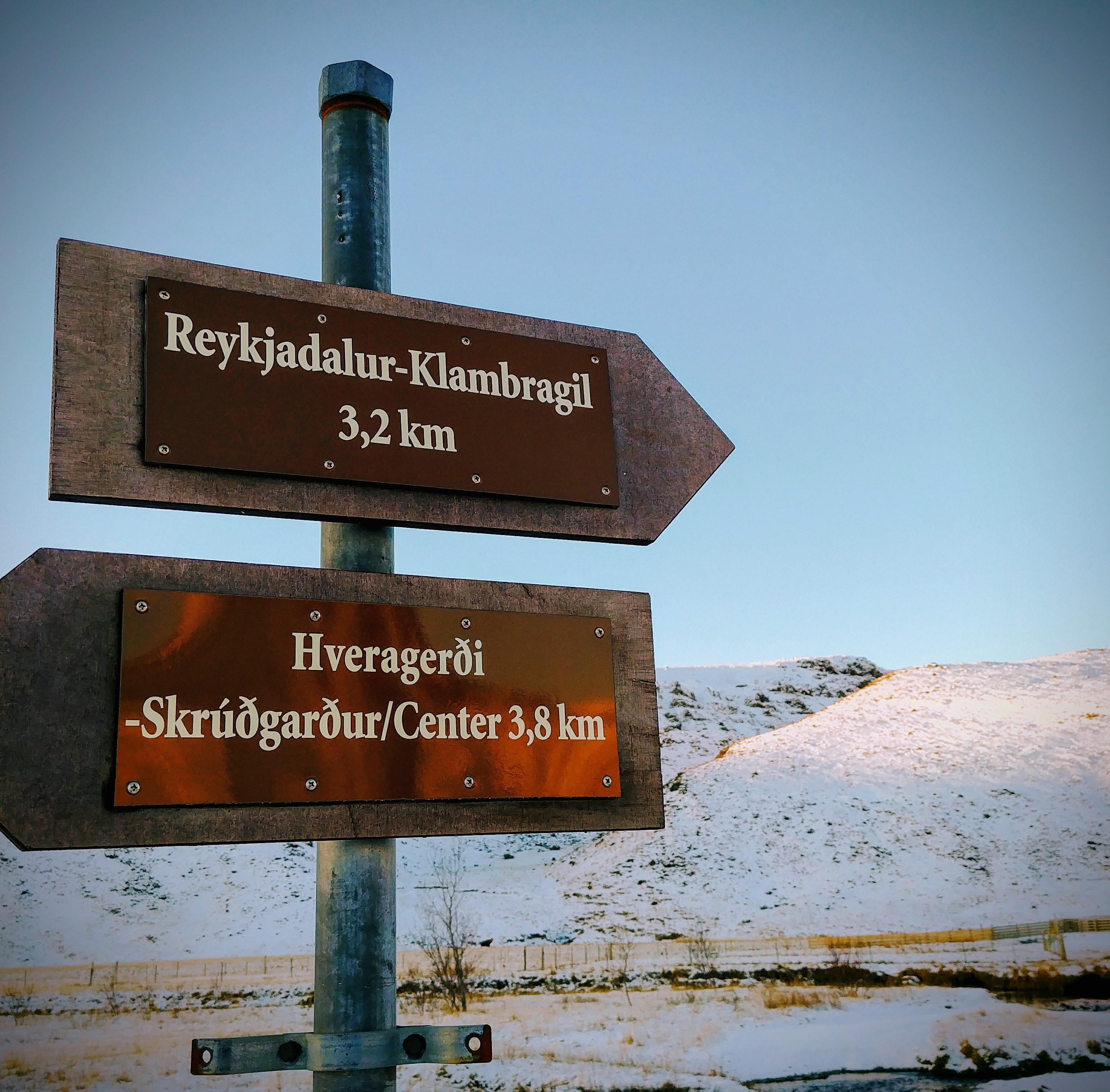 At the very beginning, you started seeing hot steam coming out from the ground as you walk up. I started to get excited until I realized that the path is very icy. That makes walking even harder. The path is clearly marked even it's all covered in snow. As I was walking up, I started seeing more and more people coming back.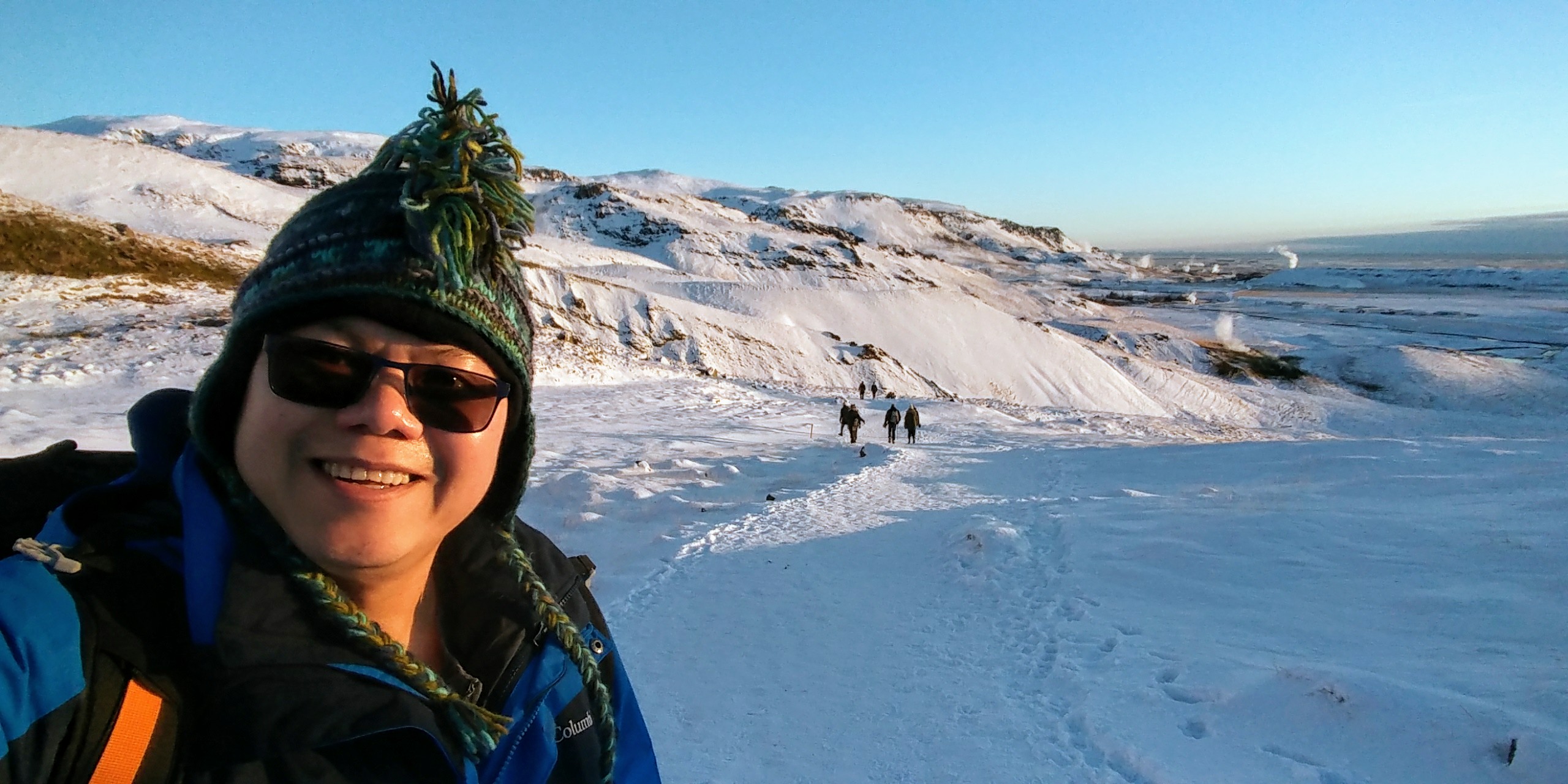 The sun is setting. Am I the last one?
As I continued, I passed more and more people making their way down.  The sun began to set behind me. The group from the parking lot still ahead of me. I kept looking back down the path to see if anyone else coming. No one. I started wondering "Am I the last one?"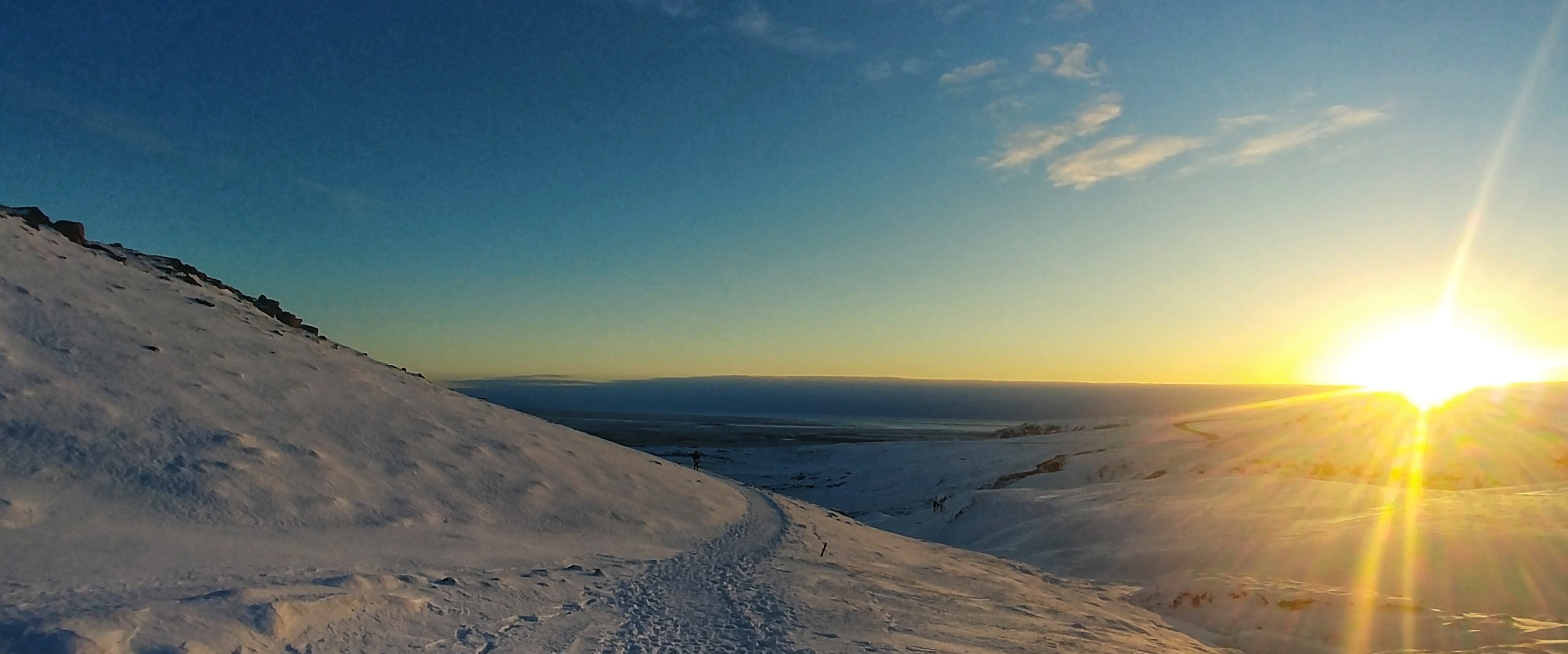 As I kept going up and up. It was just white snow all around. Some sections of the path can look scary because of a drop down cliff on one side. Extra careful here, don't slip.   At this point, it's about 30 minutes in, I think this is the highest point of the hike, on top of a deep gorge. The path started to slope down.

Sight of geothermal activity
Coming down to the gorge, when you see this river and the bridge, you thought this is it but it's not.  You are about a third way in.  You start to see white steam coming out from the ground. So you know that you are pretty close. More people were leaving.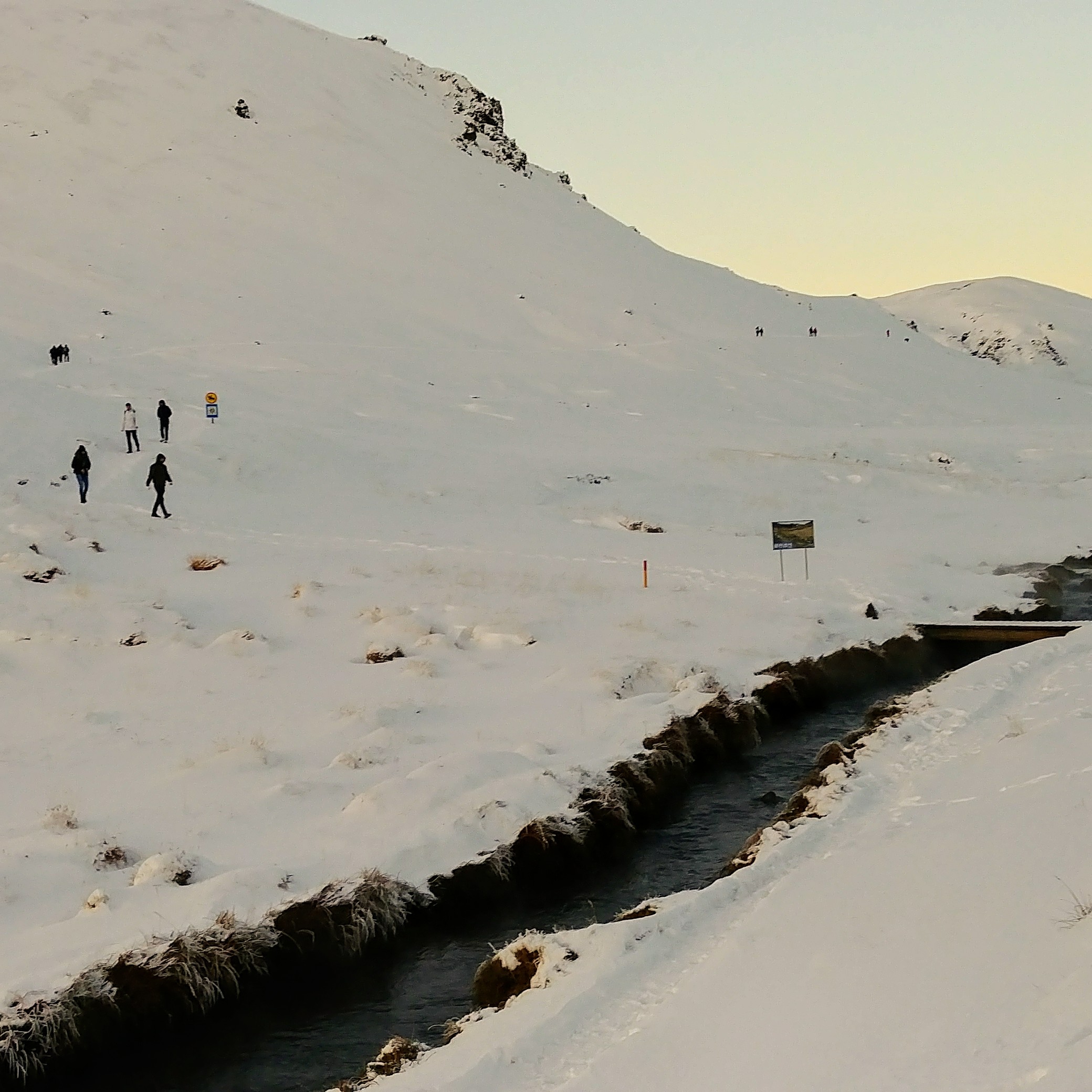 As you go further, the steam gets thicker and often. Before reaching the area that you can bathe, you'll pass couples of hot springs. DO NOT GO IN. The water can be as hot as boiling water. In winter, this section of the path is much harder to walk. The snow that melts from the heat refreezes as ice. It makes the path very icy and slippery.  I had seen many people slipped and fell.
The Destination
Finally, after an hour hike, you'll know you are at the place. ( You probably see a bunch of people in the river already.) There is a wooden path runs along the river. Now here comes the fun part. How do you change?
At this point, hope you didn't forget to pack a towel and a bathing suit ( technically you don't need a bathing suit). Don't bother looking for a changing room. Those wooden partitions you see are where you will change. You get semi privacy…but realistically who cares if anyone is naked at this point? There's a warm water waiting for you. Do a quick change ( in my case, super quick because it was freezing cold) and make your way down the river. There are small steps down to the river near every partition area.  To be honest, I hadn't thought how I was going to get dressed after getting out of water.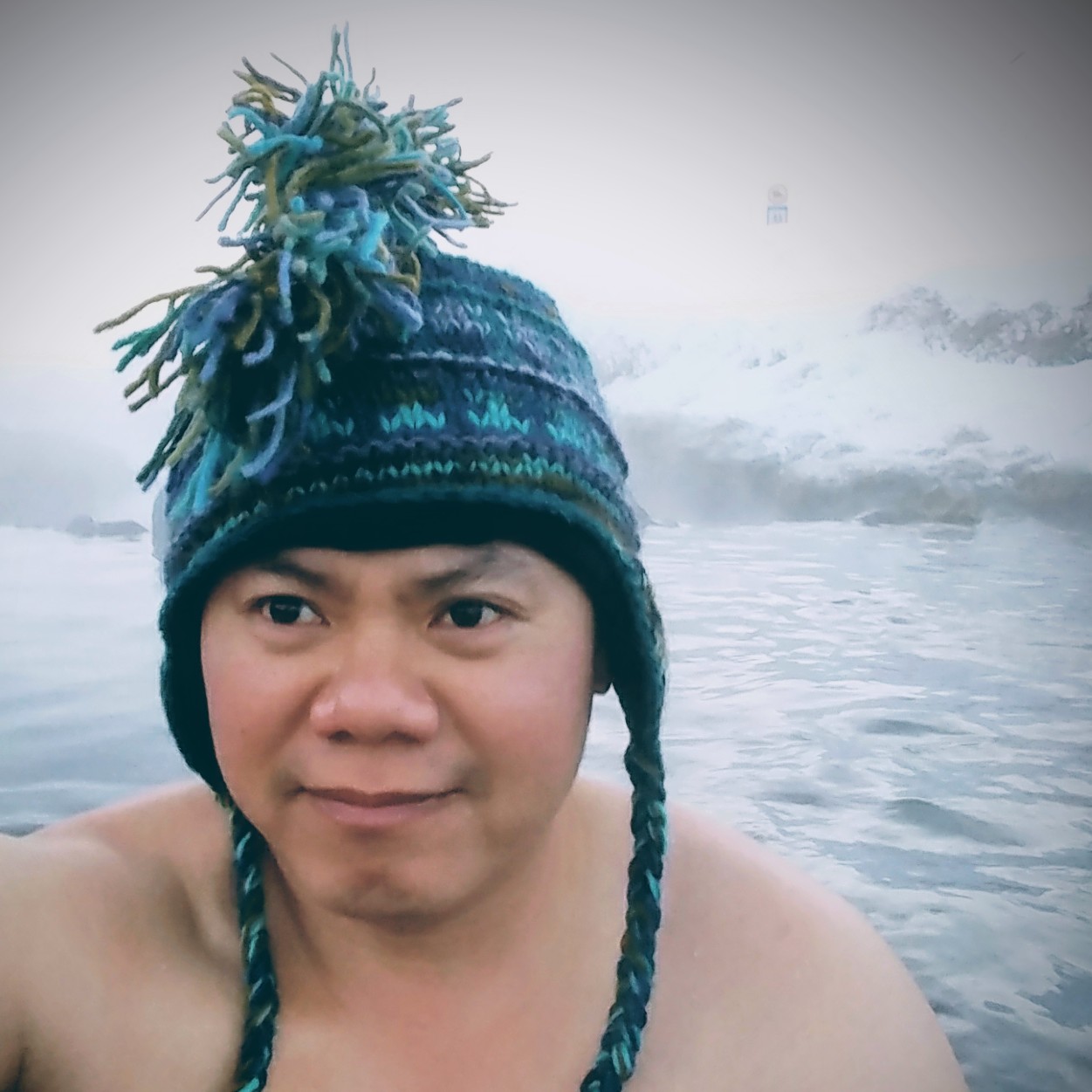 OH.. HEAVEN YES!! IT"S WARM.
The water is comfortable warm. ( considering it's winter, I would be happier with warmer). Maybe it was a good thing that I came up late because there weren't many people in the river. My spot is at the beginning of the wooden path and I was the only one here. I could imagine how this place would be packed during summer. So if you come during a busy time, walk farther down the wooden path for less crowd.
Being relaxed ( and warm) in an open space surrounded by the mountains makes the experience very rewarding especially after the hike.
I spent about 3o minutes because it's about 4.30 pm and it's getting dark. I wish I could spend more time up here but it's time to go down. Getting out of the river and getting dressed  is a challenge. Would you put on shirt first or putting on socks on your bare feet first? I go for the feet first because standing on a sheet of ice is no fun.  When I start to put my thermal shirt on, I discovered that the back of my shirt was frozen solid  (from the sweat earlier). YIKES!!!
As I made my way down. It wasn't completely dark as I was afraid because of the twilight reflecting on the snow. I could still see the path. The crazy part was there were groups of people still making their ways up. So I am thinking bathing in a hot river under the dark sky full of stars would've been a wonderful experience also. Maybe next time.
How to Get There:
Drive along Route 1 in South Iceland, 40 minutes East from Reykavik or 20 minutes West from Selfoss. You'll come to a roundabout at the small town of  Hveragerdi. Exit the roundabout onto Breiðamörk street into the town and keep driving straight through town, keep driving on Breiðamörk street – you'd see a sign for Reykjadalur from time to time. You might feel you are lost but you're not, keep heading to direction of the sign. Unitl you reach another small round about with another sign to Reykjadalur onto an unpaved road. Continue on the unpaved road until you see a parking lot with an ice cream shack ( opened during summer only).
What to bring
Towel – A big one if you want to have a bit of privacy while changing
Bathing suit – if you don't want to do the awkward change, wear your bathing suit underneath normal clothes.
A plastic bag for your wet stuff
A plastic bag for trash – there is no trash bin on the mountain. Don't leave your trash behind.
Water and snack for the hike
Good hiking shoes – in my case a good pair of winter hiking boots
Beer/Wine/Champaign  while you bathe – totally optional
Have you visited other hot springs in Iceland? Share your thought with us.
Happy Travelling
Patt W

All photos taken by Patt W unless credited otherwise. All rights reserved and can not be used or published without my permission
SHARE YOUR THOUGHTS WITH US
Comments
comments