Just 30-45 minutes drive outside Amsterdam , Kinderdijk,  a small village built in 17th century has the largest concentration of old windmills, 19 in total. It's been rewarded as a UNESCO World Heritage site for its authentic network of windmills.
We were surprised that there's no entry fee for such a great place. From the parking lot at the entrance , you can walk or rent a bike – no cars allowed. Though it was a quite distance to walk , we enjoyed the water and open field with the views of first few windmills on both sides. These windmills mainly were used to drain water from the polder back in the day.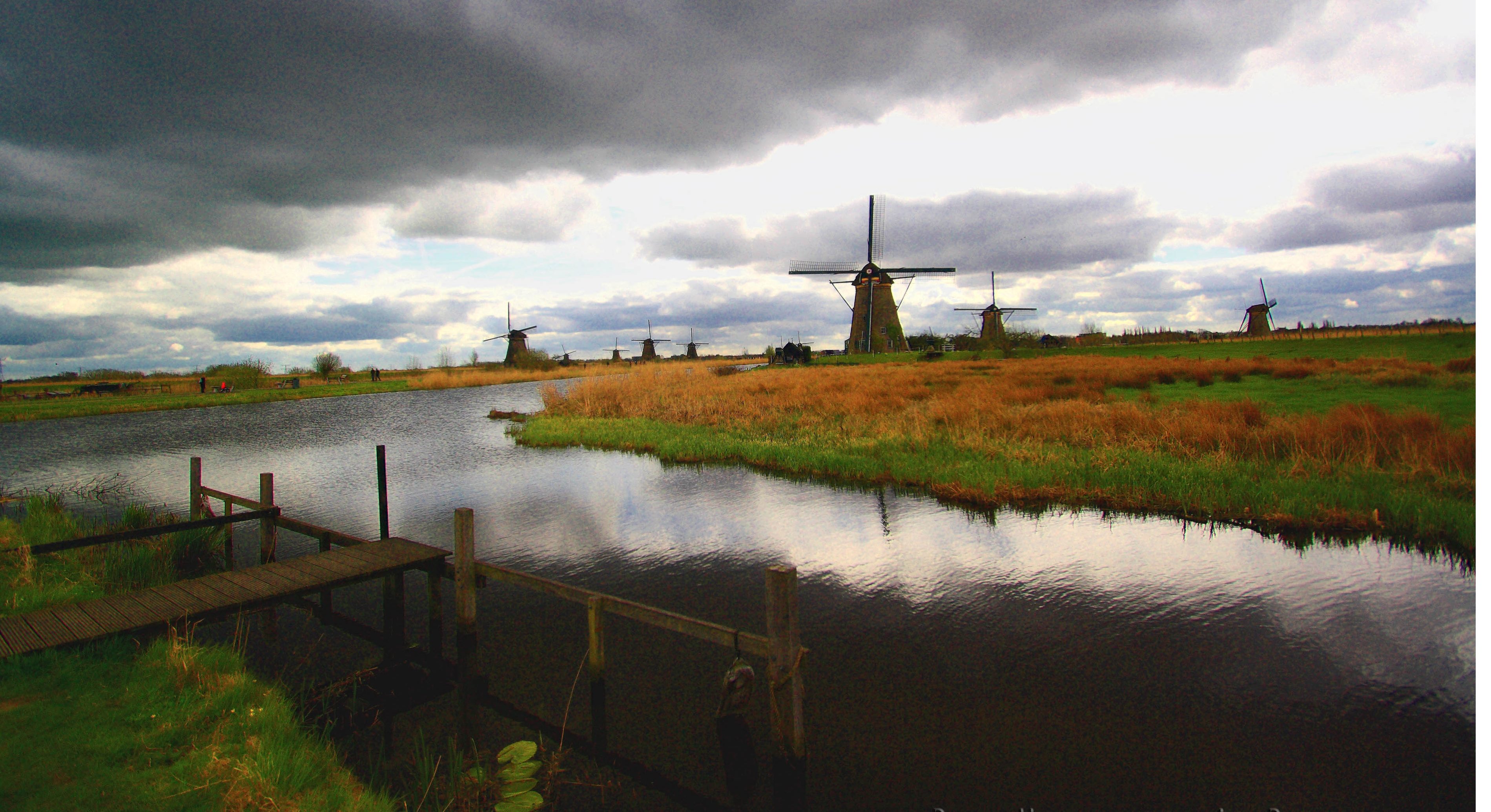 Witness the masterful engineering
You can spend the entire day here. I wish we had more time to take the canal boat tour and explore the area more. Since our time was limited( only half day), we went inside windmill # 2 or "Visitor's Windmill"
For €3,00 entrance fee (for this museum only), you will be amazed by how the millers live in such a tiny space, plus some information on how windmills operate in this operational windmill/museum. Warning; the stairs are pretty steep and narrow.
In warmer months, all the windmills are in operational. So you can see them in action as it were once used and relied on in 17th century.
You have to see the windmills when  you come to Netherlands. There is no better place than Kinderdijk.
All in all, this place makes me admire the tenacity and determination of human to overcome the obstacles in their lives. We, human, always prevail.
Have you visited Kinderdijk lately? Please share your experience with us.
Kinderdijk UNESCO World Heritage Site
Address: Molenkade  Nederwaard 1, 2961 AT Kinderdijk, Netherlands
Opening Hours (for museum mills and visitor center): March – December
Winter: 11 am – 4 pm
Summer: 9 am – 5.30 pm
You can still walk around even though the visitor center is closed)
 Tickets
No entrance fee to public and bike path. But you need a ticket to enter museum mills
The ticket will give you access to the two Museum Mills and the multiscreen film at visitor center "Wisboom". Adults: € 8,00 p.p.
Children from 4 up to and including 12 years: € 5,50 p.p.
Children up to and including 3 years have free entrance
Tips: Buy Online: Get € 1,50  discount
Happy Travelling
Patt Wattanasupt
Trip Date: April , 2012

All photos taken by Patt W unless credited otherwise. All rights reserved and can not be used or published without my permission.
SHARE YOUR THOUGHTS WITH US
Comments
comments