Sometimes it's not that far to reach the paradise (well..depends on where you're coming from actually but it's reachable anyhow.) Just a 5 hours direct flight from Bangkok, we reached Male, the capital of Republic of the Maldives.
On the southwest of India and Sri Langka , Maldives consist of 1,192 islands grouped into double chained of 26 atolls from north to south in the Indian Ocean. Only 192 of those islands are inhabited. So you still have a lot of choices of paradise to choose from.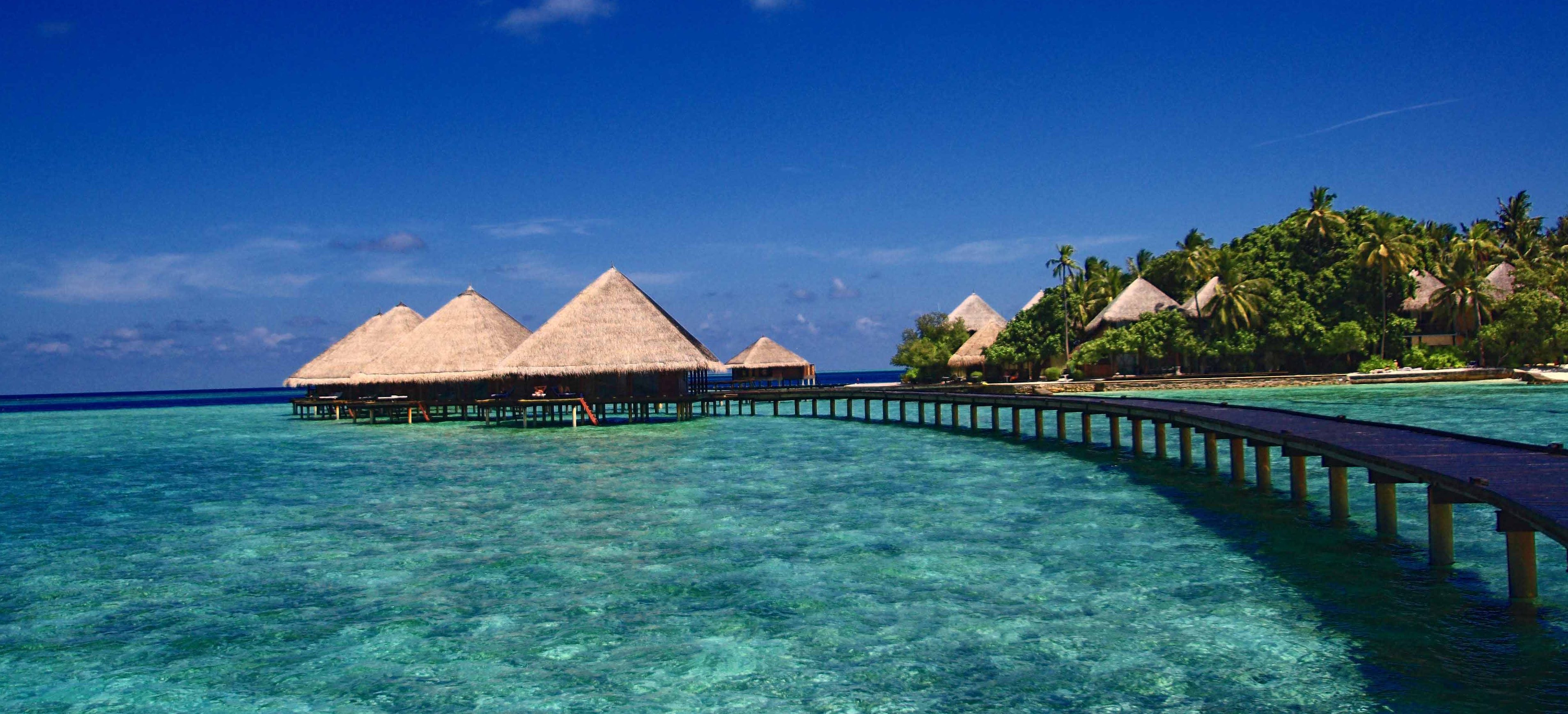 A MILLION DOLLARS VIEW OF PARADISE
About 45 minutes by speedboat, we were at our paradise of choice, Rannalhi island of South Male Atoll which is home of Adaaran resort.
We stayed in one of the water bungalows with a patio .  It's good to just sit out on the patio with the cup of coffee and the view of the blue ocean.   Or take a few step down the stair off the patio to go snorkeling. Since Maldives are basically the coral reef  islands and we just stay on the tip of the reef above water, you don't have to go far from your bungalow to see the wonder of underwater world.
 One of my memorable experience is  swimming with an eagle ray
I followed a friendly eagle ray for several minutes while he/she was gliding beautifully just a few feet from my bungalow. He/she didn't seem to care.
I did the scuba diving just right off the pier of the resort. We went out few yards off the beach and the sea floor just drops to a underwater cliff which was great because I don't like riding on a boat.
Right on our patio, we can watch the sun setting into the vast horizon. Our bungalow has a glass window on the floor. You can see the water underneath. At night, the spotlight attracts the fish. It became a night time viewing program. Who needs a television?
Besides snorkeling, swimming and scuba diving, Sometimes it's just ok to be lazy, lying around on the white sand beach.
Turquoise color of the ocean meets the blue color of the sky at the horizon.
The time here seems to pass slower than normal. Sometimes it even stops.
You always feel sad when you have to leave a paradise. Despite the beautiful scenery and room service, you feel good because you are stress free, no worries, and just enjoy the moment That is a true paradise. All in all, if you can manage that, no matter where you are, you will be in a paradise.
Have you visited Maldives? Please share your experience with us.
Happy Travelling
Patt Wattanasupt
Trip Date:  October 6th, 2011

All photos taken by Patt W unless credited otherwise. All rights reserved and can not be used or published without my permission.
SHARE YOUR THOUGHTS WITH US
Comments
comments