The hotel I stayed in Tokyo near Ueno station isn't bad. It serves my purpose of sleep and shower. But their breakfast option isn't worth paying extra for it, so I opted out that option. Instead I went to chain restaurants around Ueno station that has breakfast sets. Their prices are reasonable with big  portion.
EARLY MORNING AT TSUKIJI MARKET
But the day I was planning to go to Tsukiji Market which is well known for fish market and tuna auction, I would need to get up early before the restaurants open.  To watch the auction, you have to be in queue before 5 am which is impossible for me since the metro doesn't begin until 5 am. So I know I would miss the live auction for sure but I still wanted to go there early morning to avoid the crowd.
After taking a Hibiya Line Metro from Ueno to Tsukiji station (H10) and a short walk from there, I got to the market before 6 am. Though the inner market where the tuna auction held was over but the outer market has just started. I immediately went to Onigiri-ya Marutoyo , the famous shop known for its handmade onigiri or rice ball stuffed with all yummy fillings. There was a queue wrapped around the corner already when I got there but it moved pretty quickly.
What struck me about the place was there are over 20 varieties of onigiri and these ornigiri are HUGE!!!
Some you can guess what inside and some you just can't, unless you know Japanese but the prices are clearly marked and only around 200 yen.
After considering all my choices, I went with the biggest one "the shrimp tempura". It costs 280 yen ( about $3 USD) and I randomly picked another one ,just for a surprise whatever the filling would be. It costs 195 yen ( about $2 USD).
MYSTERY RICE BALL AND PEOPLE WATCHING
To find a place to sit, I walked further down the street. There is a public seating area next to the Tsukiji Information center (you might get a faint Free Wifi Signal from the center too). There are plenty of vending machine for you to get a cup of coffee or tea to go with the onigiri. You can sit inside but I decided to sit on the bench outside since the weather was nice and I liked people watching.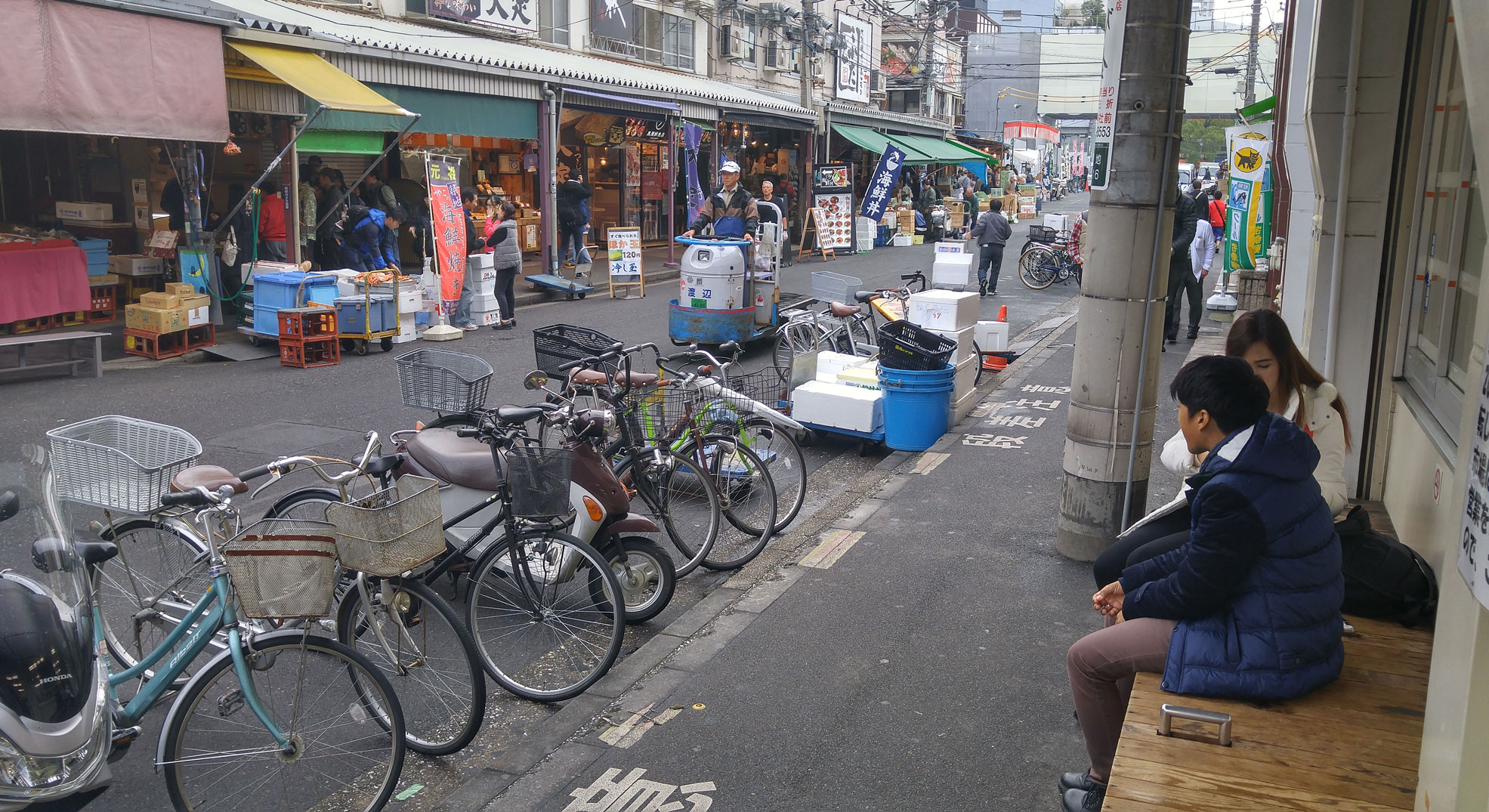 "Itadakimasu" – what Japanese people say before eating to express your appreciation for the food received.
First I tried the shrimp tempura onigiri, it was a lot of rice, little bit bland for my taste but it surely will carry me through the next meal.
Now the mystery one. It turned out the rice was seasoned with curry with pieces of fish. It was tasty and satisfying. It made me want to try another one. The ones I wanted to try are stuffed with fried oyster and the one stuffed with a soft-boiled egg. I was thinking I could look for a picture from my phone what it looks like or how it's written in Japanese and show it to the seller to pick one for me but I figured I better save room to sample all kind of other delicious food  in Tsukiji Market. Until Next time.
Note: Tsukiji market will be moving soon.
Onigiri-ya Marutoyo
Address: 4-9-9 Tsukiji, Chuo, Tokyo 104-0045, Japan
Price:  Cheap
How to get there : From  Tsukiji station (H10)  on Hibiya Line ,  just few minutes walk  along Shin-Ohashi street. The shop is around the corner of the outer market and the inner market.
Website   Information on Tsukiji market http://www.tsukiji-market.or.jp/tukiji_e.htm
Have you had onigiri before? Do you know any place in Tokyo for a good Onigiri? Please share with us.
Happy Travelling (And Eating)
Patt W

All photos taken by Patt W unless credited otherwise. All rights reserved and can not be used or published without my permission.
SHARE YOUR THOUGHTS WITH US
Comments
comments