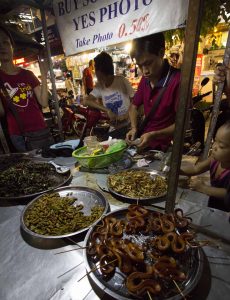 I grew up in Thailand. So, weird cuisine doesn't freak me out much.  Bamboo worms, grasshoppers, and other insect  delights , I have seen and tasted. Not a fan and probably not going to keep them as snack in my backpack.  However when I went to Siem Reap in Cambodia, at the Old Market area,  there are a few street food vendors that caught my attention.
Yup..Tarantula and Snake
The  sight of pile of black creature on a tray can be disturbing for some.  I am more curious than gross out by that.  The first time we saw was after I ate dinner. So reluctantly, I thought that it wouldn't be a good idea to lose my delicious Cambodian dinner if I tried. So I waited for the next day. But because I really wanted to take some pictures of the food cart and he clearly states that.
Buy Some Food. Yes Photo. Take Photo $0.50
So I bought a bag of crispy anchovies for my late night snack instead and slept on the idea of it.
The next day, after exhausting day of touring Angkor Wat complex, I was mentally prepared to taste these Cambodian delicacies, before dinner of course.
First up, SNAKE ON A STICK!!!
They are water snakes with their head cut off, seasoned, grilled, and beautifully skewered ( looking all the curves) .  Now for the taste test, it DOES tastes like chicken.  Like really dried out jerk chicken. I think it may be from sitting out for you know how long and not much meat on it on those tiny bones, that would make the meat really stringy and chewy.  I should've had chose a bigger snake.
Next, TARANTULA!!!!
Moving on to featured attraction, these tarantulas are about the size of my fist. They are seasoned , I can taste garlic, sugar, may be soy sauce, and fried in oil. If you dare to touch it, you would feel that the outside of belly and the legs are crispy and you just break each leg off and eat it. There are a little bit of meat in the leg. Now the belly part, after chomping pass the crunchiness of the exterior, the inside is unexpectedly soft, like cheese filling. I was expecting something gross but it turns out it was not that bad. For $1.00 a piece, it's not a bad snack after all.  The other good thing is, you can share it with 8 people. HAHA!!
Siem Reap Night Market
Address: Sivatha Road, Krong Siem Reap, Cambodia
How To Get There: Tuk Tuk
When is the god time: The street food vendors begin to roll in before dusk. It is buzzing around 9 pm.
 Price: Cheap
Have you ever tried any weird food? Please share you experience with us.
Happy Travelling and Eating
Patt W

All photos taken by Patt W unless credited otherwise. All rights reserved and can not be used or published without my permission.
SHARE YOUR THOUGHTS WITH US
Comments
comments