First time I went to Tokyo, it was a layover from my flight to Thailand. So I extended my stay in Tokyo to 4 days and used my airline miles to book the hotel. Since it didn't cost me anything, I thought it would be fun to see if I could survive visiting one of the most expensive city with just $100 for everything else. And I surely did but that's another blog for that fun story.
Here are the 6 things I did without spending any of my yen.
1. Free Temples and Parks
Tokyo has many temples, shrines, and parks which cost you nothing to enter. Even the major attractions like Sensoji temple to various museums and showrooms.  If you do a good planning and homework, you might get to see more than you expect and really priceless.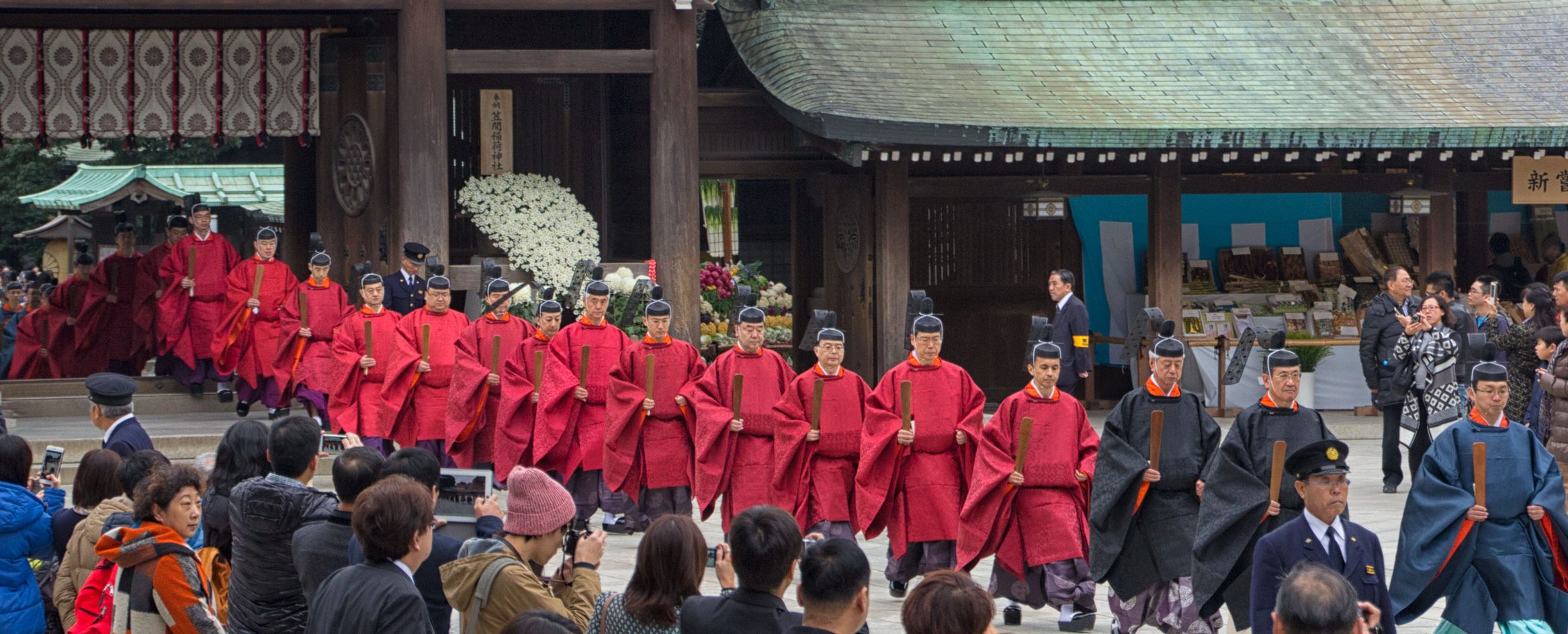 Because I only had a few days in Tokyo, I skipped the museums and showrooms. I chose more cultural attractions. So I went to Sensoji, the oldest temple in Tokyo, strolled around Imperial Palace East Garden, and Meiji Shrine. From doing a bit of  homework, I planned to visit Meiji Shrine on Labour Thanksgiving Day when the shrine held a sacred Harvest Ceremony. So I got to see the whole ceremony and the sacred dance called Yoyogi-no-Mai. The experience was just a cherry on top of my visit to Meiji Shrine.
So it's very good idea to check out the website, not only for hours but also its events.
Click Here for Meiji Shrine Calendar of Event
2. Free Guided  Tour at Ueno Park
What better than a guided tour?  A free private guided tour that is.
Ueno Park is free to enter and has plenty of shrines and temples to enjoy.  Tucked away in the corner near coffee shop after the entrance is a wonderful service that you should take advantage of. Tokyo SGG  Club (Tokyo Systematized Goodwill Guide Club) offers a free guided tour in English led by a volunteer. I was the only one who show up that day, so I got not only free but also private 90 minute walking tour. This kind volunteer was a retire military man who was stationed aboard. He told me that he does this , so he can keep practice English. He was eager to explain the Japanese culture and history, the difference between a temple and a shrine. the history of Ueno area, and the important places in the park. He taught me how to pray, step by step and told me that the water well in front of the shrine is to wash the hands, not to drink.
Tokyo SGG Club also offers the same service in Asasuka, and Imperial Palace East Garden.
For dates and times check out their website  Tokyo SGG Club Free Walking Tour Services
3.Free Sky View at Tokyo Metropolitan Government Building at Sunset
If you are like me, I like to see the view of the place from the top. The higher, the better.  In Tokyo, instead of going up to Sky Tree Observation Deck in Asasuka which would cost me 4,000 yen, I chose to go to Tokyo Metropolitan Government Building in Shinjuku which is FREE to go up to the observation deck. Give yourself a little bit of extra time to queue up in line, so you won't miss when the sunset. Mine took about 3o minutes. Luckily the sky was clear, so I got to see the glimpse of Mt Fuji far far away.  Plus on the first floor, there is a good size Tourist Information Center to get a map and other info.
For hours and info  check the website. Tokyo Metropolitan Government Building Observation Deck
4.Free Wifi
If you really need to feel connected to the world while you are out in Tokyo, you'd be surprised that most of cafe' and restaurants don't offer free wifi but  there are  ways to do it.
Keisei Electric Railway offers free wifi on their train and at the station. So you can stay connected while traveling  from Narita Airport to Tokyo.
If you are in Shibuya area, look for service counter like this one ( this particular one is in Shibuya Station), present your non-Japanese passport and get the log-in card.
As good as it sounds, be cautious about putting your personal information when using  public wifi.
5.Free Bites
People told me before my trip that most money I would spend will be on food. I can see that because all the food in Japan looks delicious which made me want to try everything. But if you're on a budget, I found most meal I had at fast food chain restaurant was satisfying and affordable. And a little bit of free samples make good snacks to tie you over to the next meal.
Heading down to the basement of any Department Stores for 'Depachika', the massive food hall selling all kinds of food and sweets. They give out free samples. At Isetan in Shinjuku, I  got samples of fish, a big chuck of good cut beef and red wine. At Tsujiki Fish Market, I got to sample fresh seafood, dried fish, and various product from many of the vendors there.
Be cool, don't be greedy. One piece of sample is enough. And don't forget to say Oishii (delicious) and Arigato (thank you) and smile ,then bow.
6.Free Tea
This is technically not free but it could save some yen. If you're a tea drinker, don't waste your money on buying drink from a vending machine. All of the restaurants I went to has free self-serve tea. When I went to Sensoji Temple, I was thirsty and cold. Instead of buying a drink, I stopped at a shop and got a Mitarachi Dango, a mochi dumpling on a skewer covered in gooey salty-sweet soy sauce. It cost only 150 yen but I got a place to sit, a new snack to try, and plenty of brown-rice tea to enjoy.
There are plenty more free things to do around Tokyo. Unforgettable experiences don't have to cost a fortune. You just need to know where to look.
Have you been to Tokyo? Any free things that I might've missed that you did? Please share your tips with us.
Happy Traveling
Patt W

All photos taken by Patt W unless credited otherwise. All rights reserved and can not be used or published without my permission.
SHARE YOUR THOUGHTS WITH US
Comments
comments