Just a little dot on the map, south of Malaysia, Singapore has been familiar to me from books, from history lessons, from the list of neighbor countries in the Southeast Asian group. But I didn't really know much about Singapore until my family decided to take a trip. For years since I've known the name, this is my first time I had a chance to put the face to the name of Singapore.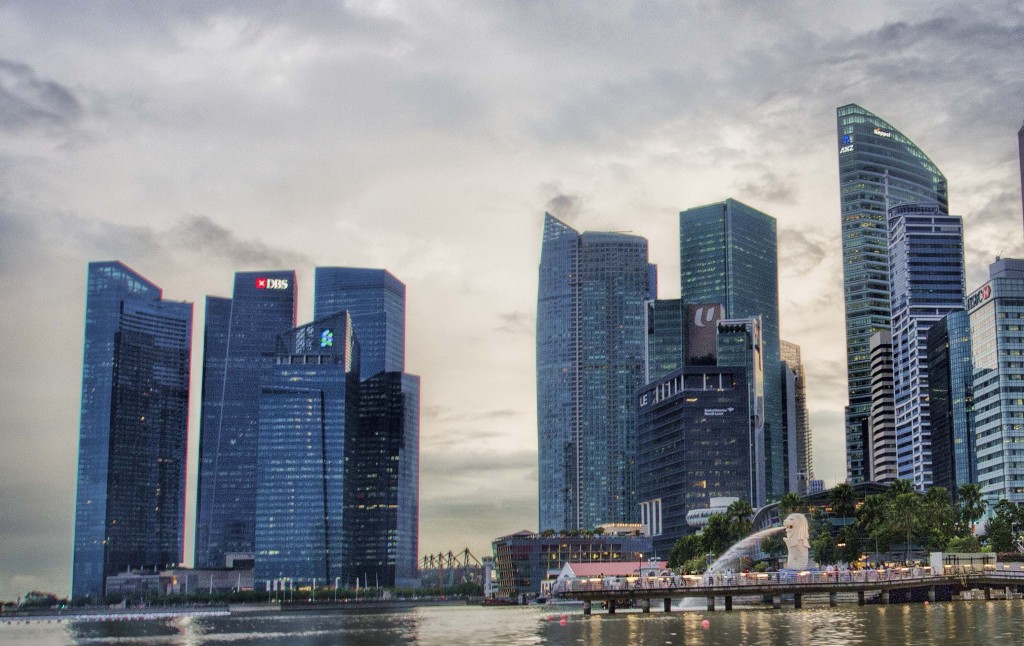 Just 2 hours plane ride from Bangkok, we reached Changi International Airport in Singapore. This city-state/island country is the size of Chicago. It only takes about an hour to drive from one side of the island to the other. During the bus ride to the hotel, I've noticed the cleanliness of the streets, sidewalks, and the city itself. This immaculateness has been a result of the strict laws about littering, spitting, drinking and eating in public places. Those activities are strictly prohibited. So if you don't want your holiday to be ruined with a hefty fine. Think clean, clean, clean.
After 25 minutes drive,we finally arrived in our hotel. "Marina Bay Sands", located in Marina Bay district is the most architecturally exciting hotel in Singapore. Inspired by a deck of cards, the building is made up of three sloping towers that connect by a roof top deck at the top. From afar, the hotel looks as if a boat has been placed on top of three buildings. The roof top deck is a home of restaurants, bars and Skypark Observation Deck which anyone (with S$ 20) can access to enjoy the best view  of Singapore skyline, especially at night.
SWIM AT THE EDGE OF THE SKY
But the main attraction of Skypark is the Infinity Pool. Stretching over 150 meters across the three towers of the hotel at the 55-story height, it makes this roof top pool the largest pool at this altitude. And it's probably one of the most stunning infinity pools in the world.
As you look out to the Singapore skyscrapers, it's almost like you are swimming at the edge of the sky.
We could spend the entire trip here where there are a lot of things to do just inside the hotel complex, going to the pool all day, going to the casino, watching the show, shopping, going to the ArtScience Museum ( the building shapes like lotus flower). But we wouldn't get to see Singapore.
BE ELECTRIFIED BY SUPER TREES
Singapore is divided into districts throughout the island. Many areas and neighborhoods in the City Center that's worth pay a visit. Marina Bay is where our hotel is by the bay. and just adjacent to the hotel (a walking bridge across the highway from the hotel), the newly opened "Garden By the Bay" is a large public garden with two huge dome shaped conservatories. You wouldn't miss a group of gigantic tree-like structures called "Super Trees" covered in plants and ferns which at night, they are lighted up providing an enchanting feeling as if you're on a different planet. (they use solar energy to light up the Super Trees at night which is pretty cool and green.)
MELTING POT OF CULTURE
Singapore was founded in 1819 by British as a trading post  and became independent in 1965. Because it was in the trade route between China, India, Europe, and Australia, many people from near and far came to this busy island. days. People from different cultures settled their roots in Singapore and called it home. They formed their neighborhoods and expressed their heritages throughout the city. Each area is very unique on their own. You can find Chinese decorations, cheap souvenirs in Chinatown. Little India is where you can find all sort of Indian goods. Bugis is the area for Malay which is neighboring by Arab Street.
TIME TO EAT
What also brought with them to Singapore is their cuisines. Be adventurous and try different food from different cultures. We had Hainanese Chicken Rice (steamed chicken, rice, and soup) in small food stalls (Hawker) in Chinatown. Bak Kut Teh (Spare Rib Tea Soup) at Song Fa, faithfully served Singaporean since 1969, where their meat is very tender and falls of the bones. Not to mention, unlimited refill on the soup. Also order a side of fried dough to dip in the soup. If you want to try something on the Malay side, try Laksa, which is a spicy noodle in curry coconut based soup.
But the most famous dish that you have to try when you visit in Singapore is "Chilli Crab". The crabs are stir-fried in semi thick red tomato-chilli base sauce. Surprisingly the sauce is sweet and savory rather than spicy but quite messy while eating it (a bib is recommended to protect your shirt.)
There are other attractions that people like to do. Sentosa is an island full of theme parks. Zoo and Night Safari on the north side for family fun. Shop at brand name stores at Orchard road area.
All in all, what stands out most to me of Singapore is the blend of cultures, religious, cuisines, people. They all seem to exist together in harmony. Differences are the bad thing. Ignorance and narrowed mind are. We all can live peacefully and benefit from other people's differences. The world would be so much better place.
Have you tried Chili Crab in Singapore before? What do you think?
Happy Travelling,
Patt W
All photos taken by Patt W unless credited otherwise. All rights reserved and can not be used or published without my permission.
SHARE YOUR THOUGHTS WITH US
Comments
comments