To get the true cultural experience, you have to try their local cuisine. Like trying Chili Crab in Singapore, afternoon Cream Tea in Cotswolds UK, or something that might turn your stomach like this in Cambodia
When you visit Scotland, after you try on kilt and taste the whisky , you have to try "Haggis" the national dish of Scotland ( or try it with whisky. It's completely your choice.)
So what the heck is Haggis?
Haggis  is made using sheep's offal (that a fancy word for the inside organs to make you less gross). Typically the lungs, hearts, and liver. The offal then cooked,  minced and mixed with suet, oatmeal , onion and seasoning. Then stuffed in the sheep's stomach traditionally (or in artificial casing if stomach can't be found) and simmered for 3 hours.
When it's ready to serve, the casing is cut open. And the haggis is served in a shape of rugby ball with  sides of "Neeps" and "Tates"
Again? What the heck are Neeps and Tates.
This one is easy and you might have guessed already. Neeps are mashed turnips ( hence…tur-Neeps because Scottish  like to shorten the pronunciation). And Tates are mashed potatoes.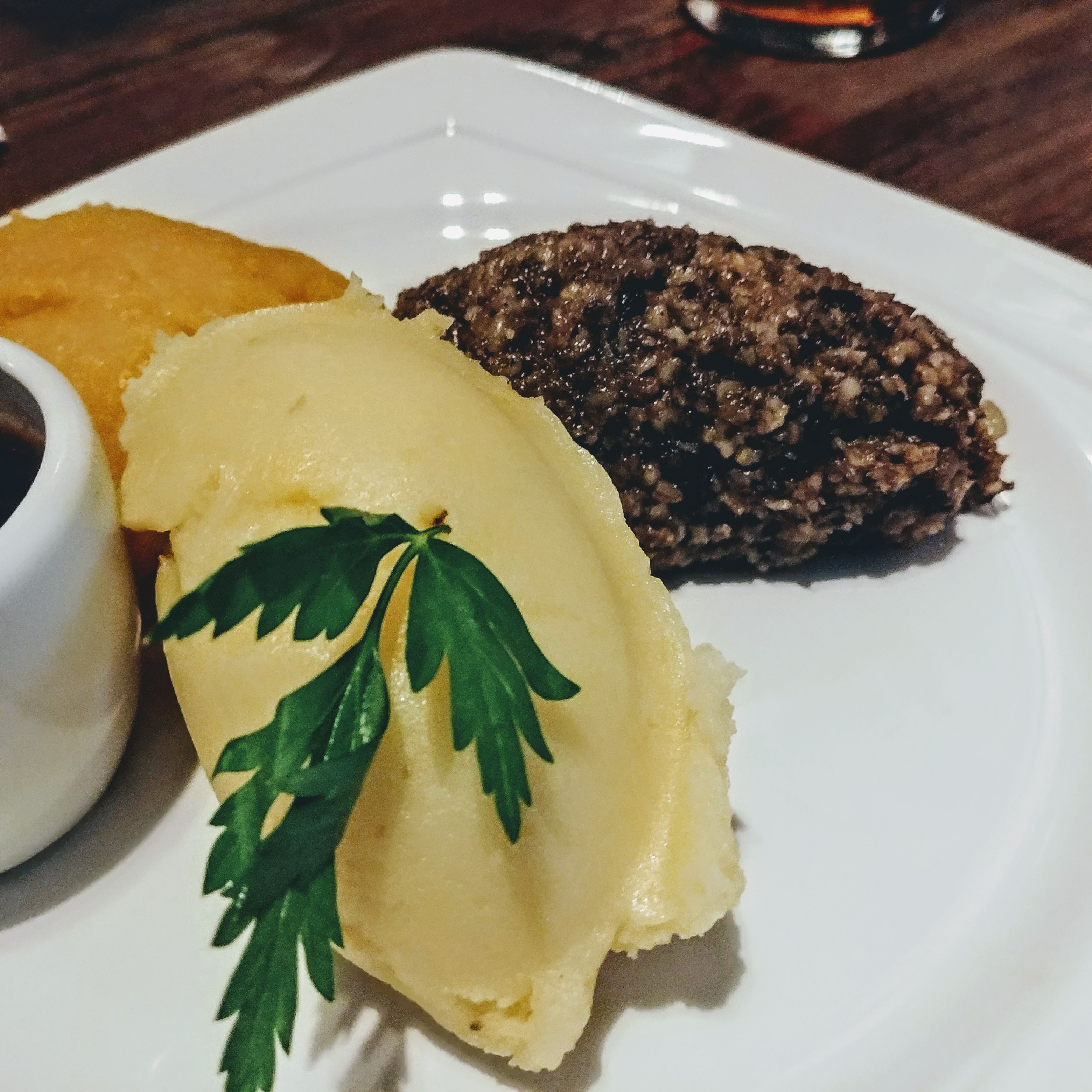 Do you know Haggis is banned in US since 1971?
Yes..Since 1971, USDA deems sheep's lungs (or any livestock's lungs) shall not be saved as human food. Crazy, right??
So..How does it taste?
After you've read to this point, you may swear you'd never put that in your mouth ( even USDA thought so), but it doesn't taste as bad as it sounds.
First, the texture.
I thought it would be like sausages or meatloaf but surprisingly it's loose and almost crumbly. The minced meat gives a bit of meaty texture  but you can't even tell it's from the lungs. The prominent texture comes from oatmeal which makes you feel like eating quinoa salad.
Now the flavor,
Very earthy and mild. I didn't get much aftertaste from the lungs ( YES I've eaten lungs before)  as you might afraid.
The final verdict
"I LIKE IT"
Since you can't really find an authentic haggis in the US, unless you know any black market that sells Scottish goods ( if you do, email me). You can try an alternative version which opts out lung parts. But next time you visit Scotland, don't forget to try this Scottish delicacy.
You can also find Haggis in many forms as people can be creative in incorporating Haggis in the dish, Haggis Scone anyone? I've tried very yummy Haggis sausages at the Last Drop Tavern  in Grassmarket district  in Edinburgh. The location is located immediately next to the scene of public hangings which took place there back in the eighteenth century. Rather than a reference to an empty glass, the name of the pub is a macabre reference to the last hanging in the Grassmarket.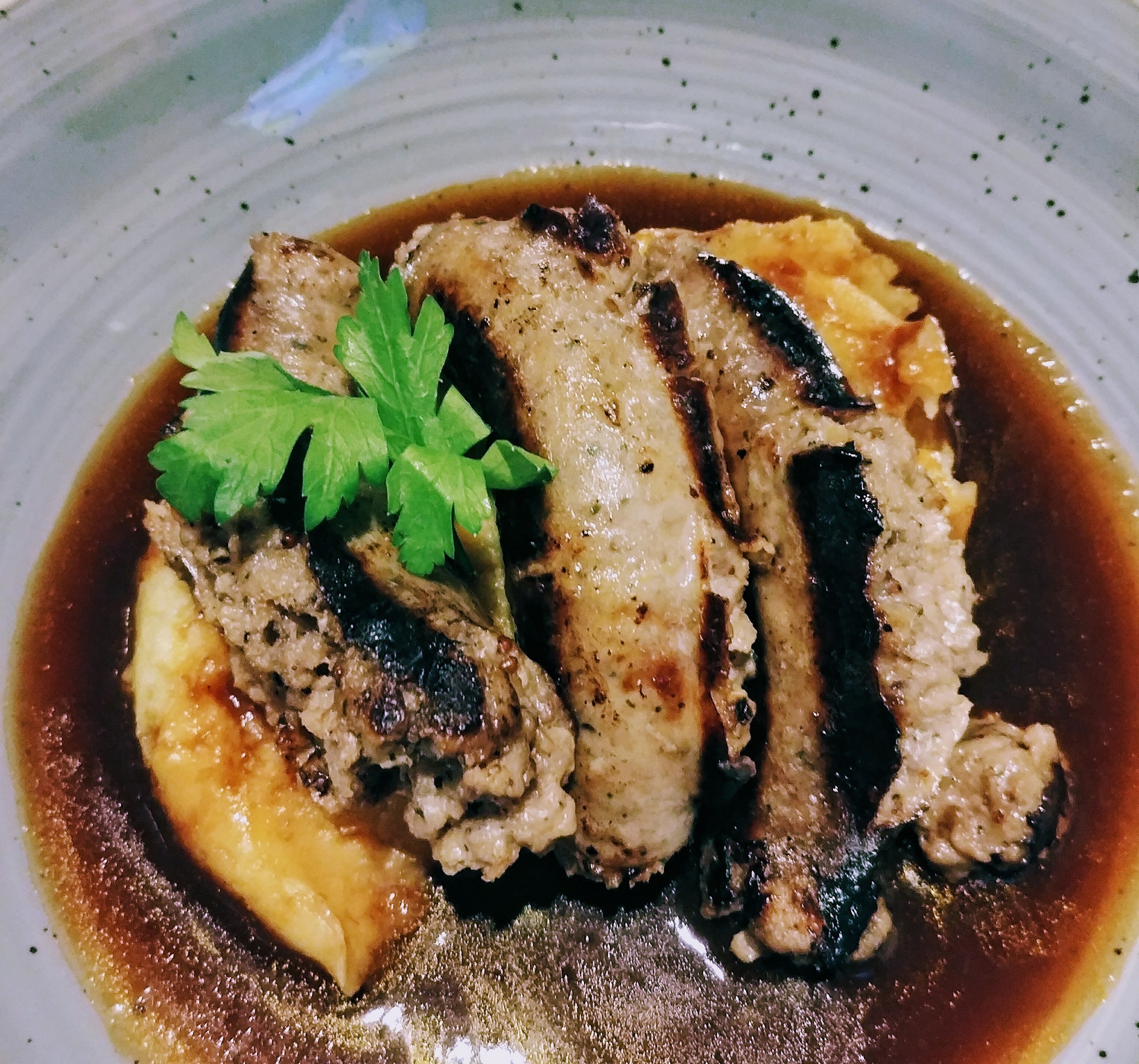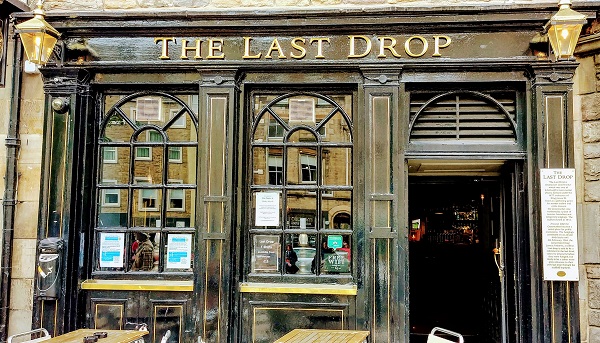 Have you ever had Haggis? Do you like it?  Leave your thoughts in the comment.
Happy Travelling and Eating
Patt W

Visited June 2017
All photos taken by Patt W unless credited otherwise. All rights reserved and can not be used or published without my permission
SHARE YOUR THOUGHTS WITH US
Comments
comments