I had to admit, I pass this temple countless times on my way to my high school by the river boat – my high school is right on the river bank, how cool is that-But I had never paid much attention in details until I had my quest to visit many temples in Bangkok as many as I can.
Wat Arun or  Temple of Dawn ( Wat Arun) is situated on the west bank of Chao Praya River.  Its name came  from the reflection of the morning sun on the Khmer style stupa – "Arun" means dawn in Thai .  Not just in the morning, the sight of this temple from afar is still amazing anytime of day.  It  has become one of the most well known and most photograhped  landmarks in Bangkok.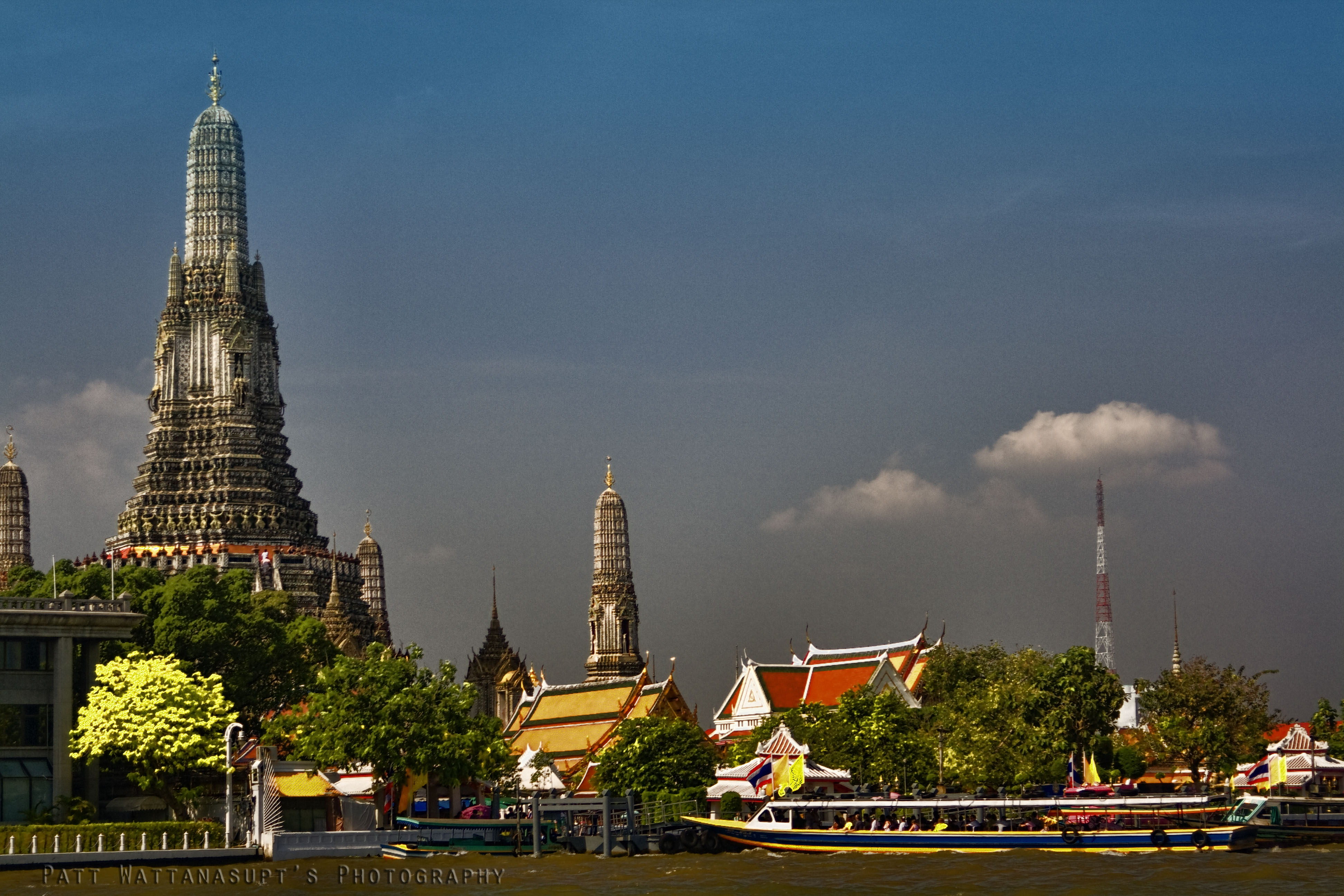 Only a few minutes ride on a river ferry  from Tha Thian Pier on the Royal Palace side, I reached the temple pier.  Walking around the temple doesn't cost anything but to go into the stupa, it'll cost you some fee if you're a foreigner.  The main stupa is 67 metre (220 ft) tall and surrounded by smaller ones on four corners. When you are up there ,take a closer look at the facade of the stupa, they were decorated by seashell, colorful tiles and broken pieces of  porcelains.
You can take the central stairway up to the first and second terrace at the base of the main stupa. Be cautious that these steps are treacherously narrow and very  steep. So if you are afraid of height, you should not attempt. But if you're not, hang onto the rail for dear life and when you make it up there, the view of Chao Praya river and Grand Palace  from above is pretty worth climbing up.
LEGEND OF THE GIANTS
 On the temple ground, there are two famous Guardian Giant statues. According to the Thai legend, the Giants of Temple of Dawn were the arch- enemy of the Guardian Giants of Wat Pho which located across the river. Their battle caused the area between the two temples to wipe out of trees and buildings. The King God was furious and cursed them as stone statue guarding the temples forever. The wipe out battle area became known as 'Tha Tien' ,translated as 'wipe out' pier.
This was the first time I took a closer look of this magnificant architecture after all these years. This place makes me admire the effort and creativity that put into the facade of the stupa. How the number of small and broken pieces (those were donated from the citizen) came together and created a beautiful art piece.
All in all, something you see beautiful already.  You might be surprised when you take a closer look and find something even more beautiful.
Happy Travelling
Patt Wattanasupt
Trip Date:  December , 2012